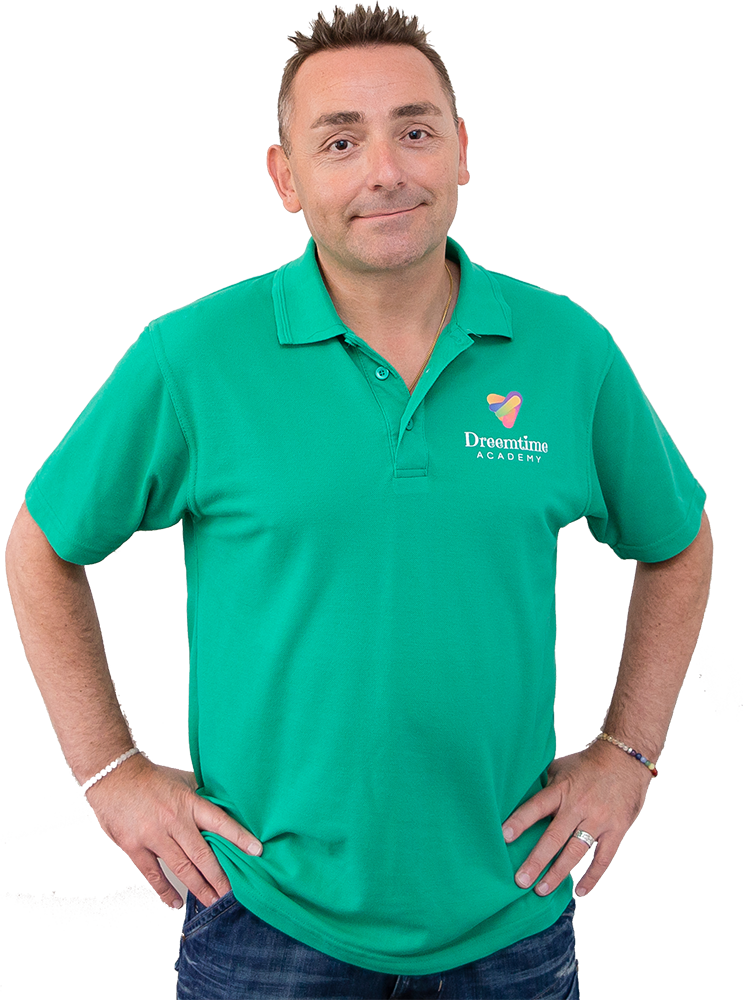 Dreemtime Academy is a unique, spiritual wellness school. As a Wellness Coach, I help wise women and female entrepreneurs to reach their full potential and lead purposeful lives.
The story begins in 2001 when I started learning Reiki after enduring severe lower back pain since my mid-teens. However, it wasn't until five years ago I had my 'mid-life awakening'… I was working full-time in the corporate sector, stuck in a job I had outgrown, an industry I despised and with people that had different values when my world came crashing down. One morning I was on my way to work and was surprised to find myself hiding in a shop doorway in floods of tears. I felt totally stuck in a rut and could not imagine another day in the same meaningless job, let alone another twelve years. My entire personality had changed over recent months until I was barely recognisable. I was lost, angry and confused and crippled by the fear of making the wrong choices for my future. In 2012, I decided to take the plunge and retrain as a Wellness Coach after having some successes with vibrational remedies to get me back on track. In 2015, when the Dreemtime Academy was born, I specialised in Colour Therapy to introduce accessible, holistic courses, workshops and products, empowering wise women to lovingly create fulfilling, harmonious and authentic lives.
As a Wellness Expert, I'm a little bit like a guide leading you through a vast maze, where around every corner there is a potential barrier preventing you from getting to your desired destination. Instead of turning around to avoid the blockage and trying to discover another exit route, I will enable you to obliterate those walls so that you can get to the same point in less time and with greater ease. During the time we work together you will embark upon a transformational journey of self-realisation.
The process starts with:
An initial free coaching call so I can gauge where you are feeling stuck in your life.
I will create a tailored program to help you to retrieve intuitive insights and release self-doubt, insecurities and fear.
Finally, I will facilitate a reconnection to your true self so that you can consciously create the life of your dreams.
Working with a Wellness Coach is like shining a floodlight into a dark tunnel so you can clearly see your end destination and feel totally safe and secure along the way. I recently worked with Sue Evans, a founder of CANsurvive a local support group for people living with cancer. Here's what she said about her journey on my 'True Colours' Program.
Well….what a transformation it has been. I had resentment that I was not enjoying but didn't know how to 'move on'. The regime that Hayden advised me to do, has cleared this completely. I embarked on the journey with some trepidation! I did as Hayden said and the feeling of 'release' after each session was so liberating that I quickly continued on….until 'daily' chores told me I had to stop! After doing certain modules….I just felt free…..uninhibited ….and felt like 'worry' wouldn't come and sit on my shoulder for the whole day……and it didn't! Having completed the course I still now utilise these techniques and really ENJOY the process, especially on days I know will present a challenge. I urge anyone who is wanting to 'release' to give this program a go…it is very liberating. Life will always present challenges to us but if we have some tools for releasing the stress that comes with the challenges…..our health will not suffer. I now have more tools to ensure my immune system is not compromised by daily challenges. I urge you to experiment with all the 'tools' now available to ensure your health is not compromised by issues that are often only 'mind games'. Thanks a million, Hayden for helping me move forward….life is too short to wake up with regrets….. nobody said life would be easy, they just promised it would be worth it!….it sure is!…..
I will help you to rediscover the real you again and what really makes my heart sing is being able to assist you to lovingly write the next happy, peaceful and authentic chapter of your life. I specialise in:
hayden@haydencrawford.com

Wellness Consultations with Colour Therapy
Psychic Intuitive Readings
(Face to Face, Telephone or via Skype)
Reiki Healing & Workshops
Numerology Readings, Reports & Workshops
I believe that the right mindset, provided by the right tools and a positive outlook can change the world
Let's see if we are a match
I am giving away a free 30 minute coaching call to see I can help you live a fulfilled life

What People Says about me
Leah Bowman
Business Owner
Just completed my Reiki 2 with Hayden's Dreemtime academy and I was so very impressed and learned more than I expected. I highly recommend any of what Hayden offers as I know I will be back to learn more.
Julie Fenn
Reiki Master Practitioner
Not only is Hayden clever, but he is kind, compassionate and really cares about everyone and everything. You are in safe hands at Dreemtime Academy!

Emma Romano
Self Healing Coach
I had the most amazing and beautiful session with Hayden. His wisdom, calming and safe nature allowed me to really pour out. Wow, what safe and profound healing.
I recommend everyone to have a session.