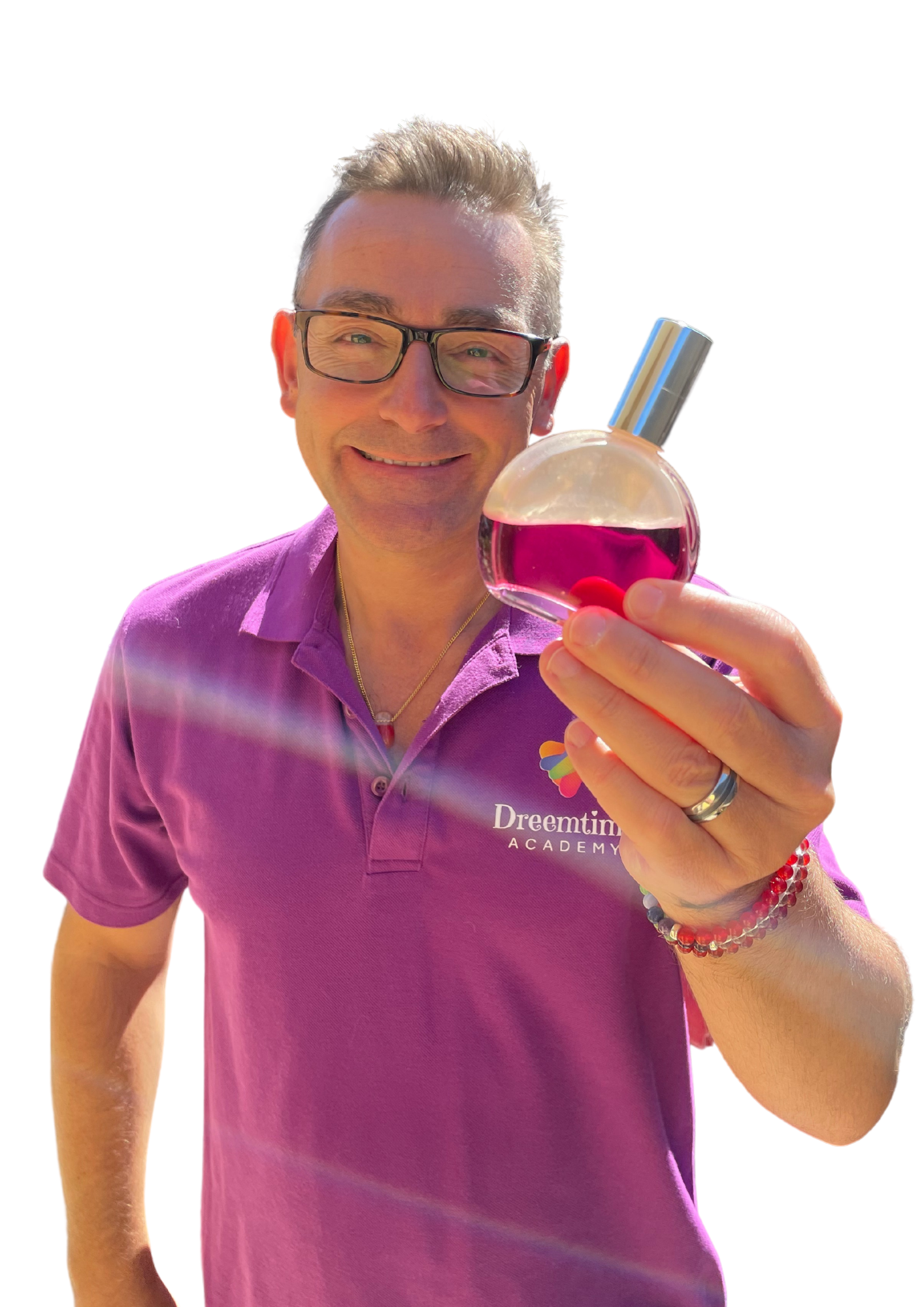 My name is Hayden and I am the Founder of Dreemtime Academy. 
This is a modern-day mystery school where wise women come to gain clarity, purpose and direction.
Throughout my schooling, I knew I was different from the other boys and they knew it too. I preferred to play with Cindy than Action Man, was hypersensitive and extremely creative. As I reached puberty, my differences were even more obvious. I matured quickly and found myself naturally drawn to the company of females but not in a sexual way, more as an empathic listener to their issues.
It has always been really obvious to me where they required help and guidance. It was a direct reflection of the dramas I was witnessing at home with my mother and older sister. My role as a diplomatic Libran was always to listen, remain impartial and try and maintain balance and harmony within our dysfunctional family dynamic. This gifted me with an innate ability to intuitively understand the complexities of female psyche and prepared me for what was about to come…
CLICK HERE  to listen to my recent podcast interview on Numerologist.com
Although I didn't know it at the time, this was the beginning of my life's work. However, it would take a relocation to the other side of the planet and several failed corporate career attempts before I could own my truth of becoming a Spiritual Teacher, Wellness Coach and Colour Therapist.
Five years ago, I launched Dreemtime Academy, a space where I give overwhelmed women permission to explore and rediscover their inner wisdom so they can live life with more joy and purpose.
It wasn't always like this though…
My Magenta Awakening
Some people may call it a 'mid-life crisis' but I prefer the term 'midlife awakening.' 
It's all still shrouded in a bit of a stigma as nobody likes to feel out of control but can you answer honestly if you have had yours yet…?
I hadn't been very happy for a few years in my corporate career as a Business Manager for an IT Recruitment Company in Perth but it was what I'd been doing for years and it had become my life.
As a self-identified 'Beta-Generation Indigo', a typical personality trait is to question authority. My moods kept fluctuating and I was becoming increasingly angry and resentful, more and more critical of those in power. Ironically from the surface, everything looked to be going extremely well. I was at the top of my game and well respected in the industry.
Fortunately, I woke up.
My Soul Urge carries the colour frequencies lilac and violet, the number 13 otherwise known as Transformation Pluto. This relates to Scorpio which is the sign of death and regeneration. It symbolises the ability to go through the dark night of the soul and come out stronger. It relates to the phoenix rising out of the ashes and being reborn. These colours signify the releasing of grief so that it might be used as service to the world. It's a time to let the world see the new you.
Taking a 'leap of faith' isn't easy. It can feel at times like you are bordering on insanity because you are letting go of all familiarity, everything which you have accepted as being real and secure up to that point in time. Despite this, you also recognise that there is no alternative as your old way of existing has been outgrown and no longer serves your highest good or those closest to you.
During the build-up to d-day I had been asking myself the question "What would I do if I knew I couldn't fail?" and the only thing kept coming back to me was to 'Work with colour'. Needless to say, I had absolutely no idea what that even meant let alone on how to act upon it. Sure enough, the clues were provided one by one as the story unravelled and as each door began to open I decided to step through them fearlessly and as I did so my emotions started transforming and my direction became clearer.
I would describe it a bit like consciously creating your identity, like a caterpillar metamorphosing into a radiant butterfly and freeing itself from a cocoon. Things that have been created along the way have to be released such as homes, friendships, career choices and even your health and only those things that resonate on the same frequency with your life purpose will remain intact. Fortunately my partner and family have come along for the ride and not once have they lost faith in me.
Leading up to another relocation, I was almost subconsciously preparing myself for the next chapter. My weight dropped 10kg at the gym, I had an operation on my mouth (to heal the truth I had been suppressing), I moved temporarily to a different company whilst the old one mysteriously folded, our house sold in 2 weeks for well above the asking price and I was guided to learn all about the Australian Bush Flower Essences.
Religiously consuming the Silver Princess Essence for life purpose and direction and discovering the soul mission of my Ruling Number 9 and the other intricacies of my birth chart, I intuitively yet nervously decided to qualify as an Advanced Practitioner of Australian Bush Flower Essences and Pythagorean Numerology to accompany my previous experience as a Reiki Master so I could continue my life as a Spiritual Teacher and Coach.
The rest is history. I am now enjoying a much more rewarding and meaningful expression of life. The joy I get from helping people is unmeasurable and whilst I miss the security of a regular corporate salary, we always seems to have more than enough. I call it my transition to magenta as it blends the colour red of the material world of corporate survival to the violet world of the spiritual leadership.

Hindsight…
Hindsight is a funny thing. We tend to forget the challenges we have encountered along the way and as we look back from where we are now it is evident how far we have come in a relatively short period of time.
I would encourage anyone who has experienced empty feelings emanating from deep within to investigate the incredible tools we have available and start living your own truth. It isn't a bed of roses but ask yourself what is the alternative?
We have all been affected by all sorts of different global and astrological transitions that are part of the ascension of humanity. To put it simply we are no longer resonating with the earth's electromagnetic energy fields, our DNA is changing through new light emissions and we are being forced into either waking up or being left behind.
I work closely with the Colour Mirrors system to help you achieve the best results in the quickest time. This exceptionally powerful, colour therapy system was created to promote both personal and spiritual transformation. It was founded in 2001 by Melissie Jolly in South Africa and leads the way as the most profoundly healing, self-diagnostic tool in the world today.
It is essential to release negative patterns from your subconscious mind and trauma from your cellular memory as they keep you trapped in vicious cycles of self-sabotage.
You can attain true freedom, joy and inner-peace by consciously raising your frequency. This is achieved on a subconscious level by re-activating your entire electromagnetic system, transmuting shadow patterns, transforming limiting beliefs and recalibrating your cellular memory.
My signature methods will help you to remember why you are here and how to gracefully reconnect to your divine essence.
Connect With Me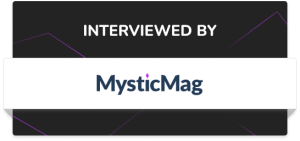 There are many ways we can connect. You can simply follow me on Facebook, Instagram or even my Youtube Channel which hosts nearly 100 videos which have been specifically crafted to help expand your consciousness. Alternatively, you can join one of my wellness workshops in Perth, enrol on one of my online courses or book a private session with me via Zoom.
The process starts with an initial free 15-minute consultation so I can identify where you are currently stuck in your life.
Working with a Wellness Coach is like shining a floodlight into a dark tunnel so you can clearly see your end destination and feel totally safe and secure along the way. 
I recently worked with Sue Evans, a founder of CANsurvive a local support group for people living with cancer. Here's what she said about her journey on the 'Your True Colours' online program.
Well….what a transformation it has been. I had resentment that I was not enjoying but didn't know how to 'move on'. The regime that Hayden advised me to do, has cleared this completely.

I embarked on the journey with some trepidation! I did as Hayden said and the feeling of 'release' after each session was so liberating that I quickly continued on….until 'daily' chores told me I had to stop! After doing certain modules….I just felt free…..uninhibited ….and felt like 'worry' wouldn't come and sit on my shoulder for the whole day……and it didn't!

Having completed the course I still now utilise these techniques and really ENJOY the process, especially on days I know will present a challenge. I urge anyone who is wanting to 'release' to give this program a go…it is very liberating. Life will always present challenges to us but if we have some tools for releasing the stress that comes with the challenges…..our health will not suffer.

I now have more tools to ensure my immune system is not compromised by daily challenges. I urge you to experiment with all the 'tools' now available to ensure your health is not compromised by issues that are often only 'mind games'.

Thanks a million, Hayden for helping me move forward….life is too short to wake up with regrets….. nobody said life would be easy, they just promised it would be worth it!….it sure is!…..
Wellness Coach & Spiritual Teacher

Colour Therapy & Numerology

hayden@haydencrawford.com

Wellness Consultations with Hypnotherapy & Colour Therapy
Online Wellness Programs & Residential Retreats
Starseed Numerology Readings, Reports, Regression & Workshops
Colour Mirrors – Energy Medicine Products
I believe that the right mindset, provided by the right tools and a positive outlook can change the world
Let's see if we are a match
I am currently offering a free 15 minute coaching call to identify where you are feeling stuck


Emma Romano
Self Healing Coach
I had the most amazing and beautiful session with Hayden. His wisdom, calming and safe nature allowed me to really pour out. Wow, what safe and profound healing.
I recommend everyone to have a session.

Lyn Smith
Office Clerk
I started my journey on 'Your TRUE Colours' in February 2019. My journey of transformation has been amazing sometimes hard work for me but I had courage and trust in Hayden. He was always patient with me and always made me feel at ease. I now have the tools to continue my spiritual learning.
While doing this course various workmates and friends mentioned what a change there was in me. The way I stand, walk and talk. One even said that I looked younger. Always positive comments.
I thank you, Hayden, from the bottom of my heart. You truly are an Angel on Earth. Keep up the good work.

Annie Rhodes
Business Owner
Hayden showed compassion throughout my exciting transformational journey with Colour Mirrors. I love his authentic way of loving guidance, exceptional skills and amazing acknowledge.
I made contact with Hayden at a time when I was at a low, feeling exhausted, lost direction and couldn't see a future for myself that was positive and uplifting.
Connecting with Hayden each week for three months, travelling in the superbly- crafted Colour Mirrors system, was fantastic in helping me to emotionally rejuvenate so that I could refocus on balancing both personal and professional aspects of myself.
His gentle and affirmative approach created a warm safe environment, which was so supportive in acknowledging and healing any emotional discords, that I had pushed aside for so long. This helped not only facilitate self -awareness, empowering insights, also lead me to re-set self-direction and insight into my purpose.
Due to Hayden's relentless commitment and intuition, to ensure I gain the most that I could. I have my joy and song back again. I have gained so much more than I expected. Somethings are just too big to sort on our own. I encourage others to reach out for help with Hayden.

Colette Carmichael-Hilan
Real Estate Manager
When I first met Hayden, he blew me away with his accurate insight reveal based on my date of birth. I then used the colour mirror bottle 6 Venus and had an incredible month. Having already a fascination with numerology and convinced of this amazing way to help and learn about people, I completed level 1 with him. He delivers a very thorough course with insight and massive content in an informative, healing and humble way. Do not underestimate this very well priced course, if in any way this has come across your radar.

Sandra Ellis
Business Owner
I have just returned home from the most amazing session with Hayden. Was not sure what to expect, but came away with having cleared some deep blocks and old issues that I didn't even realise were still influencing me (but which obviously were given the tears during my session). I am so grateful to have a renewed sense of my life's purpose and a deeper belief in my own ability to create meaningful work and a life with meaning. Thank you for making me feel safe and for the laughs. I love the colourful, gorgeous room, too! I totally recommend.

Suzy Parravicini
Local Government Clerk
I completed Reiki 1 with Hayden recently and it exceeded all my expectations. From the moment I was welcomed into his home and healing rooms, I felt at ease. Hayden is quite the generous host with tea and fresh fruits each day.
My friend and I did the workshop together so it was an intimate style and quite perfect to be able to ask questions and get a one on one experience.
The course content was quite incredible; Hayden teaches using his knowledge of other modalities like numerology, crystals, cards, Bush flower essences, his psychic interpretations and the amazing colour mirrors. This was a complete bonus and really made for a special learning journey over and above a workshop with big class numbers in a hall or similar. This along with his knowledge of the Dr Usui lineage and personal stories created the perfect authentic classroom feel.
I highly recommend his Reiki workshop for anyone who appreciates authenticity and a bright talented lecturer. Blessings to you Hayden, I'm excited about my journey forward and can't wait to do Reiki 2 in a few months.

Tabitha Marie
Dental Assistant
I recently had a Colour Reading from Hayden and found it to be so informative. It has given me clarity on my direction and huge insight into my Soul Path. I highly recommend this to anyone needing some guidance and direction on their life journey! Many blessings to you Hayden

Tina Masters
Energy Healer
I recently attended Hayden's Numerology Level 1 workshop – wow – what an amazing teacher and what an amazing day full of numbers, colours, gratitude and abundance. Thoroughly inspiring and enjoyable – I've signed up for more courses now, and I can't wait to get more colour into my life. It really resonated with me. Thank you

Cheryl Swart
Life Coach
Hayden is an absolute dream healer who intuitively knows what you require in the way of healing. He holds beautiful space for your healing session with him and is an absolute delight! I've recently completed a Numerology Level 1 course with him and his passion transfers to his students. His knowledge is second to none and he has the added ability to be present for each and every student. He truly has mastered his calling and I am so grateful to have come across him in my life! Do yourself a favour and book a session with Hayden. You will walk away feeling you have been blessed by an angel!

Michelle Papik-Fong
Wellness Consultant
Hayden you are amazing. Thank you again for an amazing session. I found clarity and feeling my authentic self again. This journey has become lighter with you in my life I am so grateful and blessed that you are here guiding me on my journey. Much Love and thank you. Would highly recommend you to the world.

Crystal Hamilton
Energy Healer
Hayden is such a beautiful, bright light of a soul. His bubbly yet open-hearted warm and compassionate personality will make you feel comfortable straight away. He is a great reiki master teacher and I am truly honoured to have learnt my reiki courses through him. I also love his colour essence sprays he makes himself. What a wonderful gift to the world.

Dot Moore - USA
Spiritual Guide/ Teacher
Hayden offers so many amazing courses he offered, but I knew I came for the Colour Mirrors bottles and him! The immediate connection with Hayden made me realize this was planned way beyond this realm. He pushed me in ways I needed to be pushed, listened to every story I shared and cared about my growth like it was my own. I didn't just gain a mentor. I truly gained a friend. As I write this all teary-eyed, I just want to say thank you to Hayden for opening my eyes to who I am and who I will become. Thank you for being there for me through so many ups and downs and not just with the course, but with my own personal life. You gave me the guidance and wisdom that I needed.

Hinna Cassidy - Australia
Wellness Entrepreneur
Working with Hayden shaped my CM course into completion. Having Hayden as my mentor filled with so much wisdom helped me sit comfortably in my growth. It takes a lot of trust for me to place my energy in the hands of another teacher and my experience with Hayden was a safe, professional and nonjudgemental space filled with laughter, kind words of advice and guidance along the way. Hayden, I am so grateful!

Natalie Moulden
Website Developer
Hayden's Release program has been incredibly helpful to me. After a series of shocks and traumas, an accelerated spiritual awakening during 2020 and then experiencing a feeling of being stuck, I knew I needed some help to get myself back to myself. I saw Hayden's content online and it all resonated with me as did he, so signed up for his Release program. It was a fantastic decision. The sessions with Hayden have helped me on so many levels. I feel more whole like I've healed old traumas, I'm more aligned with myself and have a way to move forward with more grace and ease.