Dreemtime Academy
33 Shackleton Terrace, Byford WA 6122


Sunday, August 26, 2018 at 10 AM – 3 PM UTC+08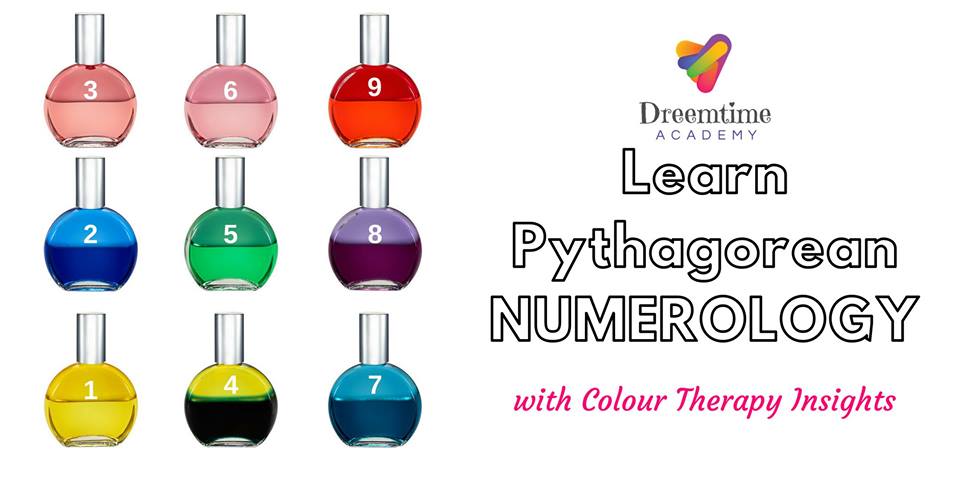 Do you want to discover your TRUE Soul Purpose so you can start leading the life of your dreams?
This enlightening Level 1 workshop will introduce you to the magical world of PYTHAGOREAN NUMEROLOGY and offers some unique insights into how it aligns with the magical world of colour therapy and the planets!
Discover how your birthdate holds the answer to your true soul purpose, strengths and weaknesses, personality blueprint and the best times to embark on new projects or ventures.
This unique workshop will give you practical guidance on how to interpret your own and other peoples numbers so you can understand yourself and your loved ones with greater clarity, depth and appreciation.
The course will cover:
The Metaphysical understanding of Numbers.
The meaning of your Ruling Number, Day Number and Life Cycle Number.
The Pythagorean Numerical Grid.
The Arrows of Individuality.
A special BONUS introduction into how it aligns with the powerful world of colour therapy!
Please supply your full name and birthdate at time of booking.
Contact Hayden on 0403 158 287 for more information.
workshop facilitated by Hayden. Hayden is a vibrant presenter with a clear passion for his topic, add in a dose of humour, and you have a very interesting and informative session. The information presented was easy to understand, no easy feat considering the complexity of Numerology, and the workshop materials make it easy to review what was covered at a later stage. The workshop was so engaging that I was not aware of how much time had passed, and was left with a desire to continue learning about Numerology. It is a fascinating tool for self as well as relationship analysis. Thanks, Hayden I really enjoyed the workshop." Janene Thompson – February 2017
"Hayden's Pythagorean Numerology workshop was informative, fun and easy to keep up with. Hayden is passionate and energetic and has a wicked sense of humour, which keeps everyone interested and involved. I'm looking forward to putting what I learnt to use to learn more about myself and my loved ones. Awesome and I recommend it to anyone with an interest in Numerology, or if you're not, you will be after 5 mins with Hayden. Thanks" Kylene Castle – May 2017
"Loved your Workshop…Well presented, great location and a wonderful group of ladies. I learnt so much during the day…not only about myself but our children too, which has given me a much deeper understanding of many things. I haven't stopped flicking through the beautiful manual you sent us home with. It is amazing how accurate Numerology is…Looking forward to Level 2 :)" Cindy Bloor – May 2017
"I found yesterdays numerology workshop inspiring and empowering. It gave me a deeper understanding of my own personality and unconscious tendencies as well as others. Looking forward to the next level! Thank you Hayden" Telicia Farley – May 2017
"I attended the numerology workshop run by Hayden last weekend and enjoyed it immensely. There was a lovely group of ladies and we all had a great time with lots of laughs and stories being shared throughout the course. Hayden has a beautiful, insightful personality and had an answer for every question ( of which there were many). The course wasn't rushed and we learnt the basics of numerology, which I found very interesting. I'm looking forward to level 2." Tania Weston – May 2017
"Hayden is a truly connected individual which a heightened sense of intuition. I recently attended a numerology workshop and was surprised at how much information we were given in such a short space of time! Hayden provided healthy platters/refreshments & thought of every little detail! So much…We had a bush-flower remedy for concentration, crystals and did a group meditation! I could not have imagined it would be so wonderful. For me, personal that resonated the most was the fact that Hayden is authentic and is about empowering people! He's not about healing anyone but rather giving people options/tools for there own self-discovery which I value a lot and to have fun in the process! Hayden is magical! & I'll be back for level 2" Arlene Maidment – May 2017
"I feel truly blessed to have crossed paths with Hayden, what an amazing insightful reading. Hayden opened up my mind to how my own personality traits could be causing blockages in my life and how to take a different perspective in dealing with problems. I walked away with a sense of positivity which had definitely been lacking in my life.
What was the final testament to Hayden's amazing ability was reading the report he provided for me to take home. Seriously, it's like he know's me better than I know myself. Absolutely mind-blowing! The report was written prior to our meeting based only on my birth name and date of birth but the insights it provided were absolutely spot on, a fantastic resource to enable me to work on understanding myself better. If you are not lucky enough to live locally for a face to face meeting I would be totally confident in recommending you have a reading via Skype."
Tina B – August 2016